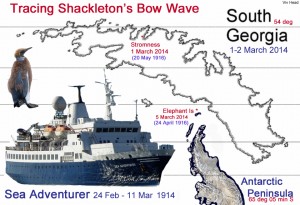 Out of the ashes of the Christchurch earthquakes came the opportunity to join an expedition ship to the Antarctic Peninsula and South Georgia. It began, with a winding journey from New Zealand to Ushuaia, Tierra del Fuego, the southernmost town in the world; Antarctica is not an easy place to reach. Joining ship, we set course south along the Beagle Channel, named after Charles Darwin's vessel.
   Emerging into the Southern Ocean, Sea Adventurer turned hard-a-port to the Falkland Islands rather than her intended course to the Peninsula. With no suitable fuel in Ushuaia,  we were to bunker at Port Stanley just as the old steam ships of yore. We had only six hours ashore but it was an unexpected bonus. A further two and a half days steaming brought us to South Georgia. The change of direction meant we would be tracing Shackleton's bow wave rather than following in the wake of his epic 1916 voyage in the diminutive lug ketch the James Caird. And what a place South Georgia is- on first sighting it in 1775 James Cook recorded- The wild rocks raised their lofty summits til they were lost in the clouds and the valleys lay buried in ever-lasting snow.
   Ferried ashore in sturdy black zodiacs, we wandered amongst thousands of king penguins, fur seals and mighty elephant seals. Giant petrels and wandering albatross wheeled overhead. The penguins and elephant seals were totally unphased by our presence but get too close to the fur seals and they would gallop towards you baring their teeth and snarling fiercely. But face them down and they would stop a few feet short, give a final snort and simply wander off. It took a bit of getting used to.
   We made six landings on South Georgia including at the old whaling stations of Stromness and Grytviken as well as making a four hour trek across the hills following a section of Shackleton's crossing of the island. So much history at our feet; it was St David's Day and I raised the Welsh flag in honour of those bravest of men. At Sir Ernest Shackleton's grave at Grytviken we gathered at 7pm as the light began to dim, to toast the great explorer in Jameson's finest Irish malt whiskey.
   Sea Adventurer steamed for three more days to Elephant Island, the journey the James Caird completed in 17 days in the opposite direction. At Point Wild we stared in disbelief at the scrap of beach upon which 22 men spent four harsh winter months surviving on penguin and seal meat, living under two upturned small boats. It is hard to imagine their utter fortitude. The nearby South Shetland Islands provided several opportunities for getting ashore, although Deception Island, where the ship sailed into the heart of a flooded active volcano, alluded us. An icy 50 knot wind made it just too dangerous to launch the zodiacs. But later we were able to make the all-important landing on the continent of Antarctica. It was at the site of the Argentine research station Almiranta Brown in Paradise Bay. The station itself had just closed for the winter but a hard slog up a steep hill nearby gave a wonderful panorama of a landscape dressed overall in ice.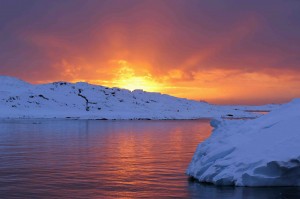 The Lemaire channel lies between the mainland and Booth Island and is barely wide enough for even a small ship like Sea Adventurer to navigate. Yet it must rank as one of the most spectacular places in the world. Great rock edifices flanked by magnificent glaciers rise up from the sea on both sides and icebergs litter the surface. A rolling mist cleared away as we entered the channel to give a spectacular vista of flat calm sea with the ice and everything else bathed in honey coloured light of a very special evening. A hump-backed whale mother and calf stayed two points off the port bow as the ship ghosted her way slowly forward. When the sun finally dropped below the icy horizon it sent a blaze of fiery light lingering across the sky. It was simply breath-taking and a privilege that everyone on board, including the crew, will treasure for a long time to come. 
   There was one more landing on a small island in half a blizzard before Sea Adventurer set a course across the notorious Drake Passage. She pitched and rolled a little but it could have been a lot worse. Yet whatever the sea might have thrown at us, it would have been worth it, because this whole voyage has been a unique and rewarding experience for everyone. For fifteen independent days in a fine ship, sharing the company of experts and friends, we have been living in our own Antarctic world. It was an extraordinary adventure.