A KAYAK ON LAKE BENMORE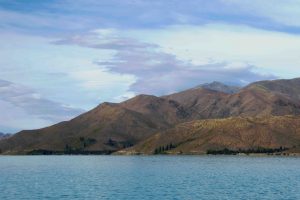 Lake Benmore is man-made and part of New Zealand's hydro electric scheme upon which the country relies wholly for power. Like many other such lakes it acts as a catchment for the rivers draining the Southern Alps. Its perimeter is about 65 miles and, like all the others, it welcomes outdoor activities be it fishing, boating, water skiing or swimming and includes at least four camp grounds along its edges. Only one of these can be reached on a sealed road to welcome tourist motor homes. Access to the other three sites requires at least some driving on gravel roads; all of them have basic toilets, none of them have showers. They are old-fashioned back-country campgrounds. Haldon Arm, where I was heading, has direct access to the water and is pretty extensive with many pitches hidden away in the trees and undergrowth. There is plenty of shade but no wi-fi or mobile data coverage. In the high season, at Christmas and New Year, it is humming but mid-week in February, I spotted just one other couple. Otherwise, it was a ghost camp with plenty of empty caravans and tents waiting for the weekend. Out of peak time there is no warden on site, just an honesty box. A family of four for one night is $20 (£10) or you can pitch up for a season for $300 (£150) and come and go as many times as you like.
I fo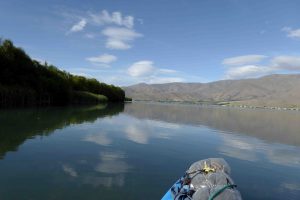 und a great place to park the truck with good kayak access to a sheltered backwater. I had a quick paddle as the evening was drawing in- I knew I was going to like it here. In the morning I loaded up the kayak with the tent and camping gear and enough food to stay out for two nights if things worked out okay. It was a beautiful morning and the lake was particularly calm. I set off along the eastern side along land belonging to the vast Haldon Station that stretches the length of the lake and takes up most if not all of the McKenzie Basin as well. The western side of the lake is wild and mountainous. I was in no hurry and made a couple of landings for a bit of exploring and brewed up some coffee at one of them at mid-morning. I noticed then that clouds were gathering overhead and the wind had got up quite a bit; the previously placid water was now plastered with whitecaps and it was looking a bit ugly. I decided I was not going anywhere for the time being and could even camp here if necessary. An hour or so later though, the wind dropped again although it was not quite so sunny; I got back on the water. The edges began to take on the appearance of 'everglades' with the water and undergrowth entwining with one another and trees growing on little islands. There were extensive reed beds as well, with plenty of bird life; I managed to scare a whole flock of black swans which took to the air with a great flapping of wings as they made their long getaway, the contrasting white of their wings making quite a spectacle. A pair of big harriers, New Zealand's 'eagles', were patrolling the reed beds. Suddenly they both dived and judging by the sound of all the shrieking and squealing, they had engaged in a successful hunt.
Approaching lunchtime, I found a delightful landing spot accessed by a narrow channel into a small pool with enough room to turn the kayak around and nudge up onto a grassy bank. There were some areas of grass, mingling with other small stretches of water and patches of dried mud bearing many hoof prints. Making my way on foot through the tangle of fallen trees, I emerged on the other side into a field of tussock grass and I could see farmland stretching away up the hill beyond. As if to prove it was not entirely isolated, the sound of an engine heralded the appearance of an old farm lorry and trailer making its way up a track in a cloud of dust.
Back at the kayak, I put another brew on, the wind was up again and the weather looked to be closing in. Sure enough, light rain began to fall. I found a flat bit of dry grass and got the tent up just as the rain got heavier. I crawled inside and took to my book. The afternoon wore on with wall-to-wall grey, I was unable to see the sky or more than a couple of hundred yards out over the water. The rain did ease by around six pm allowing me to get a meal underway; I was here for the night obviously.
At some point in the wee small hours I heard a creature rattling the polythene in the porch area of the tent. All food was in boxes so nothing for it to scavenge but I shouted a bit of abuse at it and presumably it ambled off for I did not hear it again. Yet later, when I came to pack the tent away, there was no sign of the bright red nylon bag for the tent pegs, the little blighter must have run off with it. Too quiet I think for a possum, do rabbits do such things? Most likely culprit would be a stoat.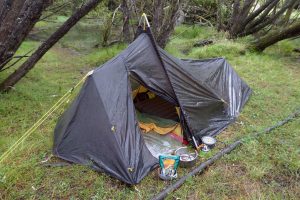 The rain came and went and throughout the night I could hear the sound of waves breaking loudly on the shoreline on one side of the tent, and the sound of water rushing into the little pool on the other. It was the same when I woke to daylight at 7.30. The potential for the day was not encouraging but at least it seemed to have stopped raining. Yet when I poked my head out, I had a clear view right across the lake, it was still grey overhead but it didn't look like rain. And even though the waves were still breaking onshore, the surface of the lake did not look too bad. After a quick breakfast I packed the soggy tent and loaded up the kayak; given the unpredictability of the weather, I thought it best to head back towards camp.
As soon as I got away from the immediate shelter of the land I realised the water was not as settled as I had first thought. The reality was a half meter swell on the beam making the boat rise and fall sideways on. It wasn't long before some of these waves found their way on board and I was soon soaking wet. Even though the kayak was quite heavily loaded fore and aft it was still pretty stable and I had no real fear of it tipping over as long as things didn't get any worse. Nevertheless, I tried to stay as close to the shore as I could but it was surprising how shallow the water was even some distance off-shore in places, and that was not necessarily a good thing. There was one mini-headland where I could see breaking waves and white water running several hundred meters out into the lake; clearly a very shallow stretch and not a good place to be. I paddled inshore and walked the kayak across the shallows.
Later when my course was more northerly, the waves were on my stern quarter and I kept getting forced off course as they sought to push the stern around to lie more in the troughs. To counter this, I used the paddle as if on a Canadian canoe, paddling on the weather side only and made good progress in the right direction. I am sure that an experienced kayaker, perhaps in a more manoeuvrable boat, would smile at these comments but I did have a bit of anxiety, I was wearing a buoyancy aid of course but I am not a strong swimmer. That said, I had confidence in the boat and relished the challenge it gave, at no time did I fear the boat would turn over or that I would otherwise part company with it and I enjoyed the experience. The most concern I had was that my camera that was hanging around my neck would get wet.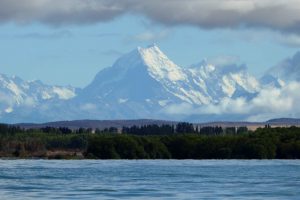 What a joy it was when rounding the last headland to see the splendid snow-capped peak of Mount Cook, New Zealand's highest mountain, against a blue-sky background. Once in sheltered waters approaching camp, I felt quite weary, it had been a hard, two-hour slog. My shoulders were sore and I had a numb bum! Getting out of the boat proved to be a bit of a challenge.
Viv Head, February 2019