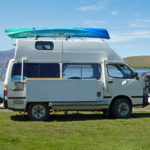 Indeed, it was an exceptional year for Betty and I. As ever, it began in New Zealand with numerous trips on the road in our thirty-year old Toyota 4WD camper-truck, known as Black Dragon 2 or BD2 for short. We did six trips between January and March (some with both of us, a couple by me solo) totalling 3,320 miles (5,345 ks).
Lake Benmore NZ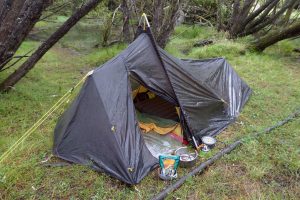 One of these solo trips involved an overnight kayaking trip at Lake Benmore. On a pleasant February morning I loaded up the kayak with the tent and camping gear and enough food to stay out for two nights if things worked out okay. It was a beautiful day and the lake was particularly calm to begin with, but conditions took a bit of a turn. The rain began in earnest in the afternoon and continued through the night with strong wind stirring the waters of the lake. The morning did not look too inviting either, so in the end I only stayed out one night. It was a bit of an uncomfortable paddle through half-meter swells on the beam, back to base camp the next morning. It was great experience though.
Scandinavia & the Arctic Circle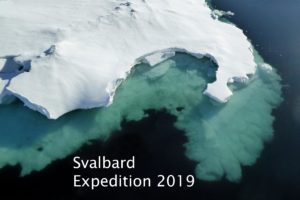 Back in Cardiff by mid-March, I was joined there by my very good New Zealand friend, Jonathan Pascoe, at the end of May. I had rigged the Ford Galaxy as a camping car and together we set off for Oslo, the capital of Norway taking several days over the journey. Leaving the car at the airport, we took off for the two-hour flight to Longyearbyen, the only settlement on Spitzbergen, part of an archipelago of islands hundreds of miles inside the Arctic Circle. We joined a ten-day polar cruise for an incredible experience of polar bears, reindeer, arctic foxes, walrus and vast quantities of ice that took us to within 600 miles of the north pole.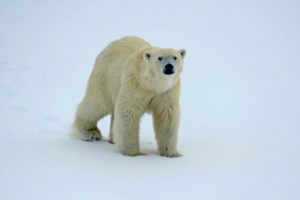 We got ashore in wild and uninhabited places every day, under the watchful eye of armed guides from the expedition team- polar bears can be seriously deadly sometimes.
Back in Oslo, we were joined by Betty and Jonathan's wife Linda, and explored Oslo and Bergen together. After Jonathan and Linda left us in Bergen for Sardinia, Betty and I flew to Tromso for a few days back inside the Arctic Circle and 24 hours of daylight. After that we spent a month driving and sleeping in the back of the car returning to Cardiff via Norway, Sweden, Denmark, Germany, Belgium and France. It was a bit hard on Betty who had injured her knee after tripping over a guy rope; it is still giving her trouble six months later. Yet we had four and a half thousand miles on the road (as well as a thousand nautical miles at sea)- what a fabulous trip.
Sailing
In August, I achieved a long-held ambition when I sailed my 19-foot gaff rigged sloop Nutmeg, solo up the Bristol Channel from Cardiff to Avonmouth. After which came the six-miles of the Avon River to lock into Bristol Docks. It was a weekend of wild weather, but the boat was safely tied up on a pontoon. Betty came over by train to stay on board for one night; it is questionable as to which is bigger, the back of the camping car or Nutmeg's two berth cabin. The return passage included a night's stopover in Portishead. Not a momentous voyage perhaps, but it was a satisfying thing to have done.
Australia
Betty returned to NZ at the end of September and flew to Australia in mid-November where she has relatives in Sydney and Sawtell in New South Wales.
Betty writes: My youngest sister Peggy, who lives in Sydney, is as cheerful and stoic as ever, despite now being on palliative care for her advancing cancer. Did I mention she is also Bossy despite me being the older sister? Peggy's husband Jim died while we were in Australia. He had been in care for some years with motor neurone disease so it was a release for him. My middle sister Sally and her husband Max who live nearby have been incredibly supportive of Peggy and Jim.
My second week was in Sawtell with my brother David and his wife Linda.  David has also been having a run around with various specialists.  I have renamed 'Sunny Sawtell' as 'Smokey Sawtell' and my planned week of sea bathing and sunshine was scuttled by the smoke and a big surging and not very warm sea. A very minor inconvenience as the bushfire situation is now out of control.
I joined Betty in Sawtell at the end of November but as it turned out both my arrival and departure proved a little difficult. Bush fires have been raging in New South Wales for weeks and at the time of writing (January 2020) twenty-nine people have died and 4000 homes have been destroyed.
Arriving at Sydney airport early in the morning I transferred to a domestic flight to Coffs Harbour, (near Sawtell). Smoke from the bush fires was evident for much of the flight and as we were coming into to land, the pilot decided that there was not enough visibility and pulled out of the descent with a great surge of the engines. We flew back to Sydney where we were offered accommodation and another flight the following morning but with no guarantee that the same problem wouldn't occur again. I opted to hire a car for what should have been a six-hour drive. However(!) thanks to a rather wayward GPS and being confronted by huge columns of smoke from a new bush fire that required a rapid back-track, it turned into a near midnight arrival after an eleven hour marathon. And that following a 30-hour journey from Cardiff. It was good to get some sleep.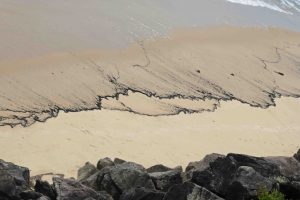 We enjoyed an excellent week with Betty's brother and sister-in-law, David and Linda Jones; Sawtell is a beautiful small-town gem lying on a golden beach between two extraordinary headlands. Long may it remain 'undiscovered'. However, the smoke from the fires felt oppressive and meant that we saw little of the sun with the windows being kept closed. And walking by the beach we could see a line of black ash being deposited by the waves.
And then it was time to leave…
Arriving at Coffs Harbour airport at 5.30am we discovered that New Zealand Immigration had introduced new electronic visitor visa requirements last month, but they hadn't told me! Betty was unaffected but I was refused a boarding pass for the connecting Sydney to Christchurch flight. After two abortive attempts to get a visa on-line we found a man in Sydney Airport who has a side-line in arranging visas for people caught out, at $30 (£15) a go. It was right in the nick of time and we were able to catch our booked flight to Christchurch.
Of Cycles & Deluges
For the past five years I have supported an older group of Kiwi cyclists on a week-long camping and cycling trip in various remote locations around the South Island. None of them are under seventy yet they an incredibly determined, adventurous and self-reliant bunch of people camping in tiny tents over the course of a week. This year was slightly different in that we based ourselves at a small wooden bach (cottage, pronounced 'batch') at Lake Clearwater in the Canterbury High Country. No mains electricity, piped water, sewerage, telephone or mobile connection but still a great 'base camp'. The weather for the week could mostly be summed up in three words- strong wind, rain. Yet still the boys got on their bikes every day. Ask yourself why, after waiting in vain all morning for the weather to clear, they saddled up to ride 33 ks (20 miles) in the pouring rain. The destination may have been the nearest café but we could have had coffee in the bach- in the dry!
There was one fine day- on Thursday. Making the most of it, we all cycled around Lake Clearwater in the morning- 11 ks, 7 miles, and climbed Mount Sunday in the afternoon. A scenic if not exactly high peak, Mount Sunday was one of the locations for the Lord of the Rings films when a mock fortified village was constructed on its peak. I slept in BD2 throughout the week and that night the wind was incredibly strong, so much so the van was rocking back and fore.
The following day, Friday, was our last full day. After an off-road cycle ride (or walk for three of us) during the day, we chose to visit the isolated Mount Potts Lodge for an evening meal. We got more than we bargained for. When we came to leave we found that a section of the gravel road, half a mile from the lodge, had been washed away and was most definitely impassable. It is the only road in and out, so we returned to the lodge and accommodation was soon found for seven of our party plus eight or so other stranded people. As usual I slept in the camper truck.
This is an extract from my log book:
3am [Saturday morning] What a storm we are having!
Thunder and lightening has been raging for more than 12 hours. It is highly charged at the moment- lightening coming in groups of long flashes, 3,4,5 at a time, eight or ten times a minute. The thunder is continuous, only varying in its intensity. So explosive that the whole camper-truck is vibrating. The rain came in torrents. An awe-inspiring storm of biblical proportions. There maybe more than one wash-out by the morning.
It was a storm unlike any other and lasted for twenty-one hours, although it continued to rain on and off over the next few days. The car parking area and the lodge road down to the public gravel road was over-run with flood water and the lodge itself was threatened. We moved the vehicles to higher ground three times during the day and evening. Overnight the wash-out had doubled in size and it was clear that it was not going to be an easy or quick repair, nor would it be an early escape for us. Lloyd, the young man running the lodge, his mother Eliza, and all the guests got stuck in trying to divert the water. The local farm manager, Ash, and his tractor was the most effective, but it was a losing battle for much of the day and into the next night. Electricity for the lodge is provided by a water-powered generator and that failed around midday and took the internet connection with it. Thankfully, a large pot-bellied wood-burning stove was a centre piece and the ovens in the kitchen were gas. We would not be cold but there would be no light to eat by that evening.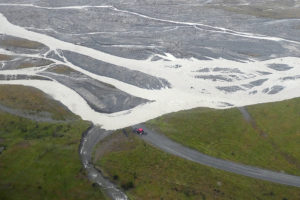 We were given an option to fly out by helicopter on Sunday morning. It would only be a small helicopter with room for three passengers with the cost split between us. ($2,000) So, three flights through the gloom and the rain brought us all back to Clearwater where we still had two 4WD vehicles. Enough to get the nine of us back to Christchurch. I must admit I felt a bit guilty about leaving everyone at the lodge to soldier on without us. I understand there was more flooding on Sunday before it began to ease off.
We left six mountain bikes and two 4WD vehicles at the lodge and it was a week before we had news that the road was driveable again to allow us to retrieve them. Although the road was officially still closed, we were able to get through and collect the bikes and vehicles seven days after we had left.
White Island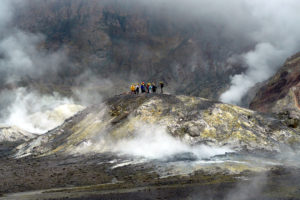 New Zealand is reeling from a tragedy on a volcanic island 30 miles off the coast of the North Island. It is a popular tourist destination, I was there myself a few years ago- an extraordinary place full of sulphur and fumaroles where hard hats and gasmasks are routinely issued on landing. On Monday 9 December 2019, the day after we returned to Christchurch, 47 people, many from a visiting Australian cruise ship, were on the island when the volcano erupted without warning. Three helicopters responded and at least 34 people were taken off by their fearless pilots in an extraordinary act of bravery. Many of these people were suffering from extensive burns and a number have subsequently died; many of the others will have suffered life-changing injuries. Nearly a week after the tragedy, 23 people were still in hospital. Some of the injured had such extensive burns that days after the tragedy they had still not even been identified. It put unprecedented demands on medical staff right across New Zealand. Eight people were reported to be still on the island- none will have survived; six bodies were recovered a few days later. The remaining two will possibly never be found. Twenty-one people have been confirmed dead so far.
Five years ago, the boat that I previously travelled on to the island, Peejay 5, was returning to Whakatane on the mainland when it caught fire and sank. There were sixty people on board; all were safely rescued.
Ship Cove at last
Our last trip of the year began with driving south to visit Betty's daughter and son-in-law's farm near Mataura to spend Christmas with them and their four daughters. After a flying visit to Kaka Point on Boxing Day we drove home through the night back to Christchurch for a quick turn-around before heading up to the north of the South Island. After joining a wedding celebration in Nelson we camped for New Year at Momorangi Bay in Queen Charlotte Sound. From their we took a boat from Picton to land on Matuara Island before crossing to Ship Cove, a place I have long wanted to visit. It was a favourite anchorage for Captain Cook when he was exploring and claiming, New Zealand in the 18th Century. Even today, it is accessible only by walking track or be sea, there is no road; it is a very special place.
We returned to Christchurch via Golden Bay and the Matueka River Valley to pick up the 100k (60 mile) Rainbow Road from near St Arnaud to Hanmer Springs. The Rainbow Road is a demanding four-wheel drive gravel road with frequent fords and wash-outs. It was as rough this time as ever I have seen it, but since it was in the first week of January, it is a story for another year.
VH January 2020