It was a plan that had been emerging for some time. Three generations of Heads spent a few days camping in the mountains of Snowdonia. It came together at the end of May during Morgan's half term break from school and when Ben was able to get time off work.
Tuesday 29 May 2018
After loading equipment and provisions, we left Birchgrove at twenty passed eight and headed north on the A470 to take us through the heart of Wales. Arriving at an informal farm campsite on the B4405 below the south west flank of Cadair Idris, a mountain of much myth and legend. We pitched camp using two small tents, a Vango Storm 300, well capable of withstanding the elements, for Ben and Morgan and a more simple tent for me, one I had used in Tasmania in 2003.
A little after 1pm we set off on the path to Llyn Cau, a long, steep, energy sapping 'staircase' that took us an hour and a half to negotiate. The lake is set in the bowl of Idris's 'chair' and is quite magnificent with a towering rock face leading the eye up to the summit. Ben was keen to go on to the top via a narrow, steep path on the left ridge. I felt it was too late in the day for it and in any case, I didn't feel up to the extra climb.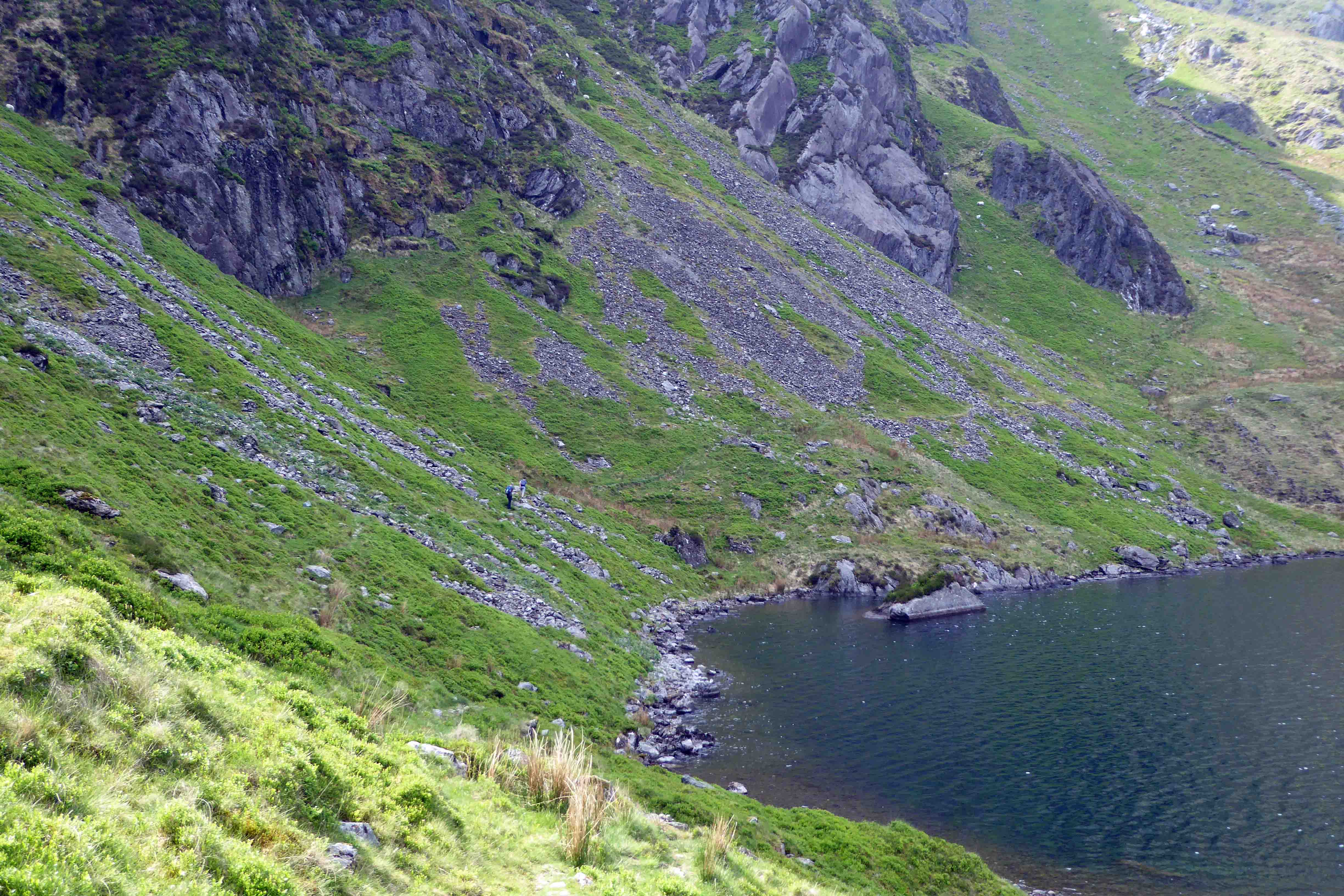 We noticed though, that there was the thin outline of a little-used path running around the lake and took that instead. It was a bit of a scramble in places often a hundred feet above the level of the lake, but a truly majestic circuit with only the noisy crows or rooks wheeling overhead for company. A little over an hour later, we were back where we started and ready to begin the descent back to camp. Ben and Morgan forged ahead while I found getting down the big stone steps particularly hard on almost seventy-three-year-old knees.
After an excellent spag-bol meal we added some twigs to a BBQ for a great little camp fire. A fine finale to a great first day- only the midgies spoilt things a little when they came out in force as twilight approached.
Wednesday 30 May
A good night's sleep for all and the look of another fine day. We broke camp and paid our dues before setting off for the short journey to Glaslyn camp at Lake Bala. Although the site is huge there is plenty of room and we pitched camp close to the water's edge without feeling crowded in any way. Two bacon rolls each for a welcome brunch before we got the Seymor kayak inflated and afloat.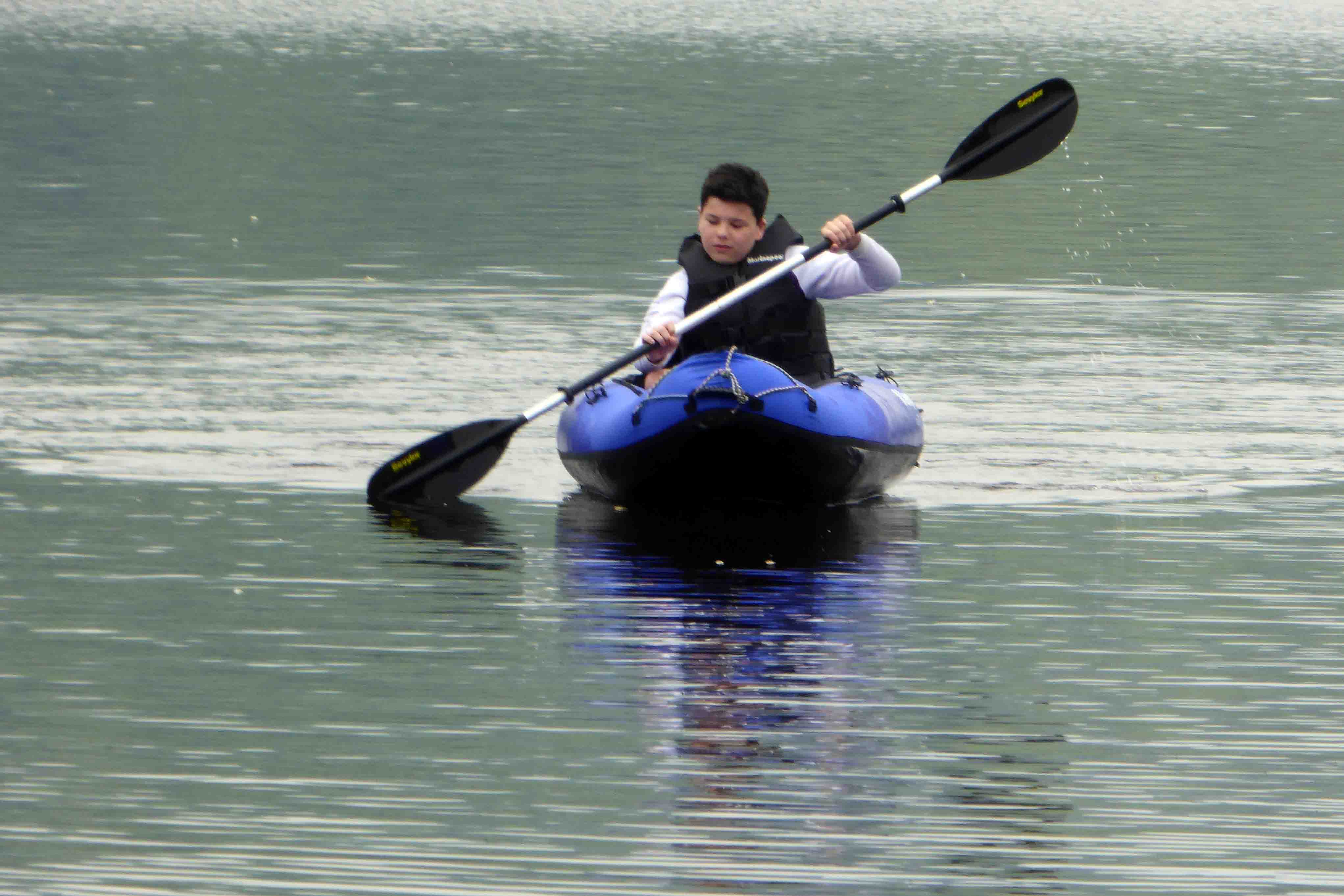 Taking it in turns to explore nearby stretches of water, Morgan proved to be a bit of a natural in the kayak having not been solo before. After a couple of trial circuits in the shallows he was off across the bay til almost a speck in the distance. His dad later disappeared around a headland for over an hour exploring the early reaches of a river at the west end of the lake. What a great place this is.
A BBQ meal of hot dogs and bacon rolls was followed by a long round of boules that only came to an end when the onset of murkning made it difficult to see where the jack had landed. With no serious rain forecast, we had pitched the tents under the spreading limbs of a large tree.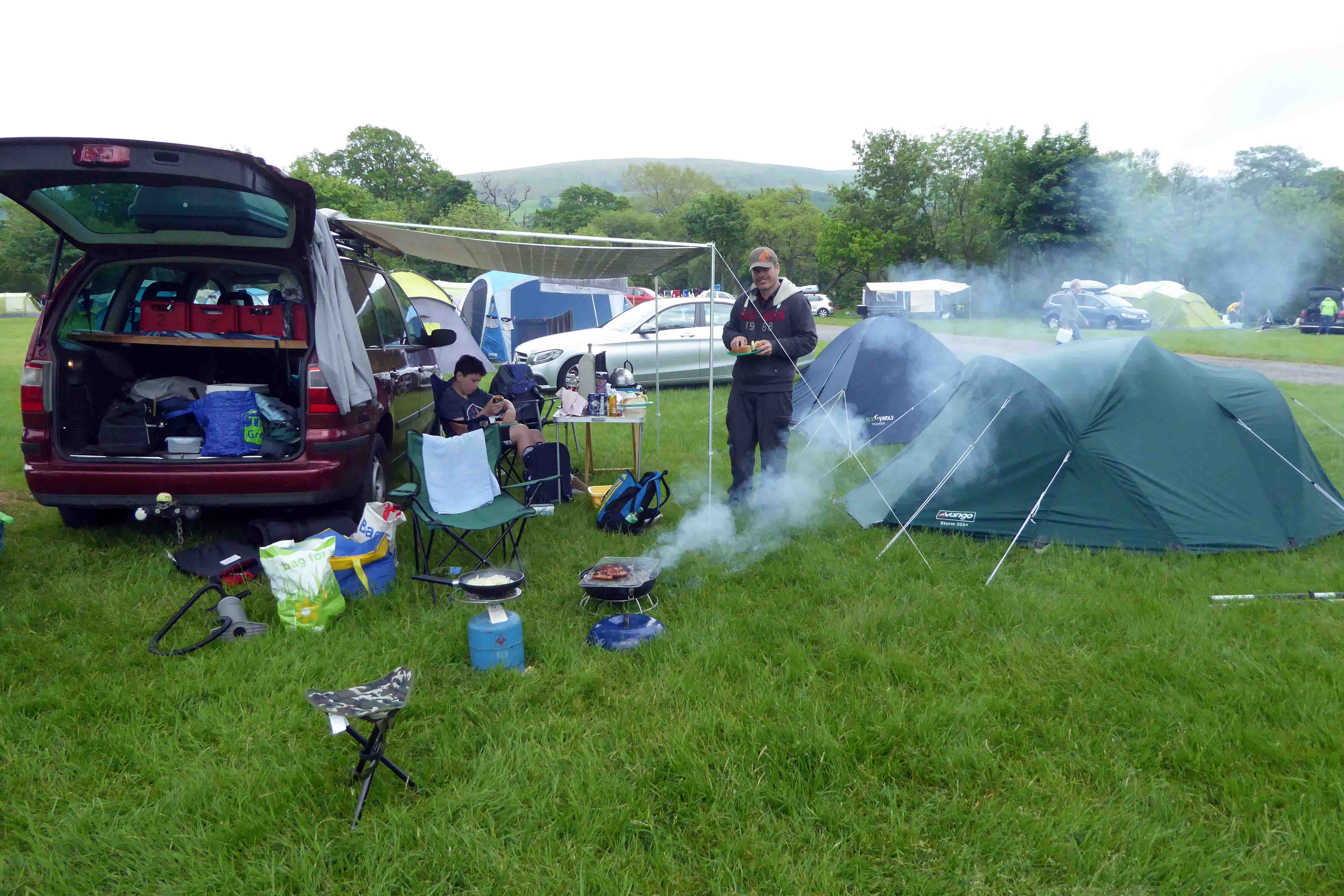 Thursday 31 May
The disadvantage of camping under the tree even without any rain, became apparent at 5am when a murder of crows took up temporary residence on the first of several early morning visits. Their raucous, elongated screeching did indeed make one think of murder!
Happy Birthday Ben, 46 today. We upsticks and left after a quick breakfast, intending to climb Snowdon today. The car park at Pen-Y-Pass was already full, as we had anticipated. Three miles down the Llanberis Pass we found a park and ride site with plenty of spaces. £5 to park and another £5 for three of us on the bus back to Pen-Y-Pass to begin the walk up the Miner's Track, the most scenic approach to Snowdon.
It wasn't long before Ben and Morgan were way in front of me and when we next caught up we made a contingency plan in case my legs weren't up for the summit. I gave the car keys to Ben in expectation of him being down before me,
I have been on this path several times but goodness it seemed steeper this time even though it has been significantly upgraded to cope with the inundation of summer visitors. There were plenty of people here today though not enough to be a nuisance. The only downside of Snowdon is that it is such a beautiful mountain from any one of half a dozen approaches, it attracts many thousands of visitors keen to take on the challenge. In many ways it is a victim of its own success. There is no denying that on a glorious day like today it is a stunning panorama. Glorious yes, and hot too, making it sap your energy all too easily. I must admit I struggled a bit the higher up the path I got. Soon enough though, I could see the point where it would meet the Llanberis Track and the mountain railway and I knew then that I would make it all the way.
Morgan and Ben had been there for twenty minutes but I was pleased enough to make it at all. We asked a young French woman to take a photo of the three of us- one young, one middle aged and one old fella. This I think, is my sixth time on the summit of Snowdon and certainly one of the most satisfying. Cherish the moment.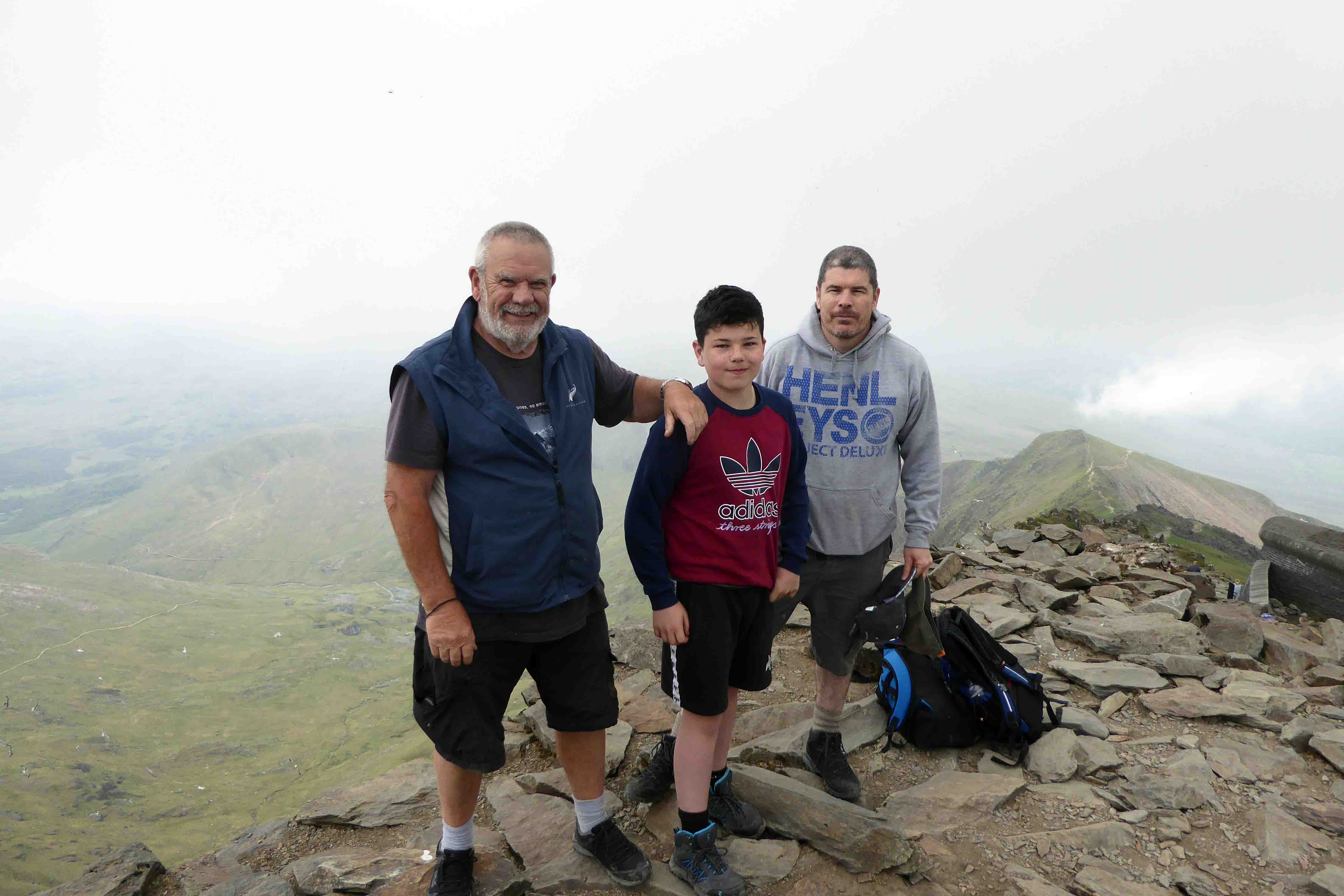 I considered taking the train back down but didn't like the thought of wimping out. But I did opt for the Llanberis Path which, although the longest route at five miles, I thought would be easier on the knees. But with a steep gradient and a lot of loose shale underfoot, it certainly had its own challenges. It was a weary pair of legs that brought me down into Llanberis. Ben and Morgan meanwhile had started back down the Miners Track but then diverted to the Pyg Track which proved to be hard going on the lower reaches.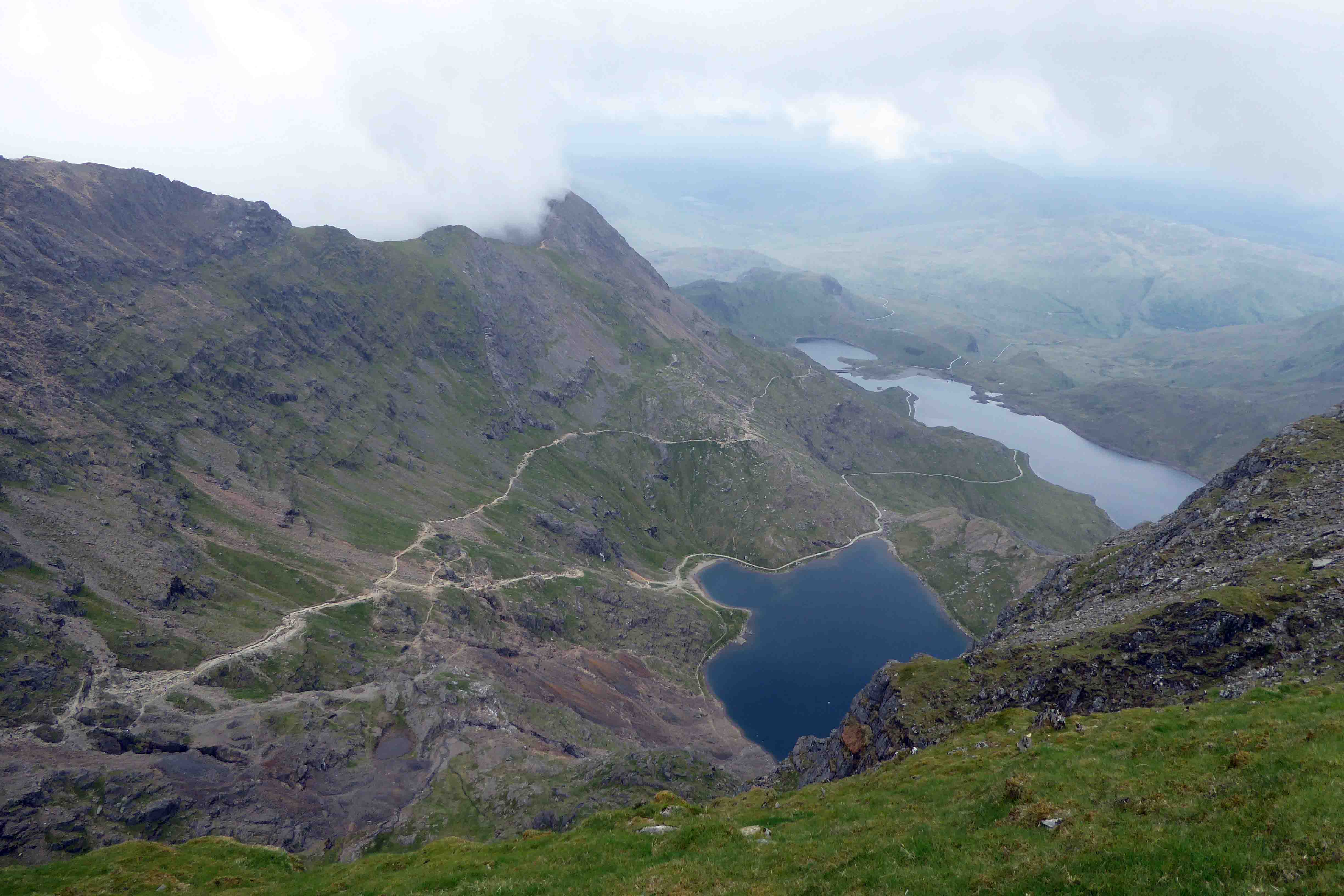 The upper path is the PYG Track, the lower one the Miners Track
It was gone 6pm by the time both parties were down and by that time the bus had stopped running. So, it was a taxi each to return from opposite directions to the car at Nant Peris. Happily, we found a convenient camp site nearby and, even better, it was opposite the Vaynor Arms with decent fayre with which to celebrate Ben's Birthday as well the end of our three days in the mountains. We had walked some nine hard, steep miles today and ascended or descended about 5,000 feet. Curiously, we had gone up one track and come down two separate and different tracks; so three different routes between us.
Friday 1 June
The only significant rain we experienced came just as we were striking camp- the sky emptied, ensuring the tents and everything else, including us, got thoroughly soaked. We paused at Capel Curig, largely to enjoy a traditional cooked breakfast. The only diversion on the rest of the journey was to call in at Llyn Clywedog where I have spent many a happy time sailing Fleur from the little clubhouse at the bottom of a steep drive. The lake was formed when the valley was damned in the 1960s to provide a reservoir used to top up the River Severn, itself a water supply for parts of England. It was a controversial and unhappy time because it drowned the local farming community.
Back home we unloaded and got things sorted and dried out and picked over the trip. I enjoyed it immensely and I know Ben did too. I asked Morgan how many he gave it out of ten? Nine point five he replied. It would have been ten if it wasn't for the midgies. Quite so Morgan, quite so.