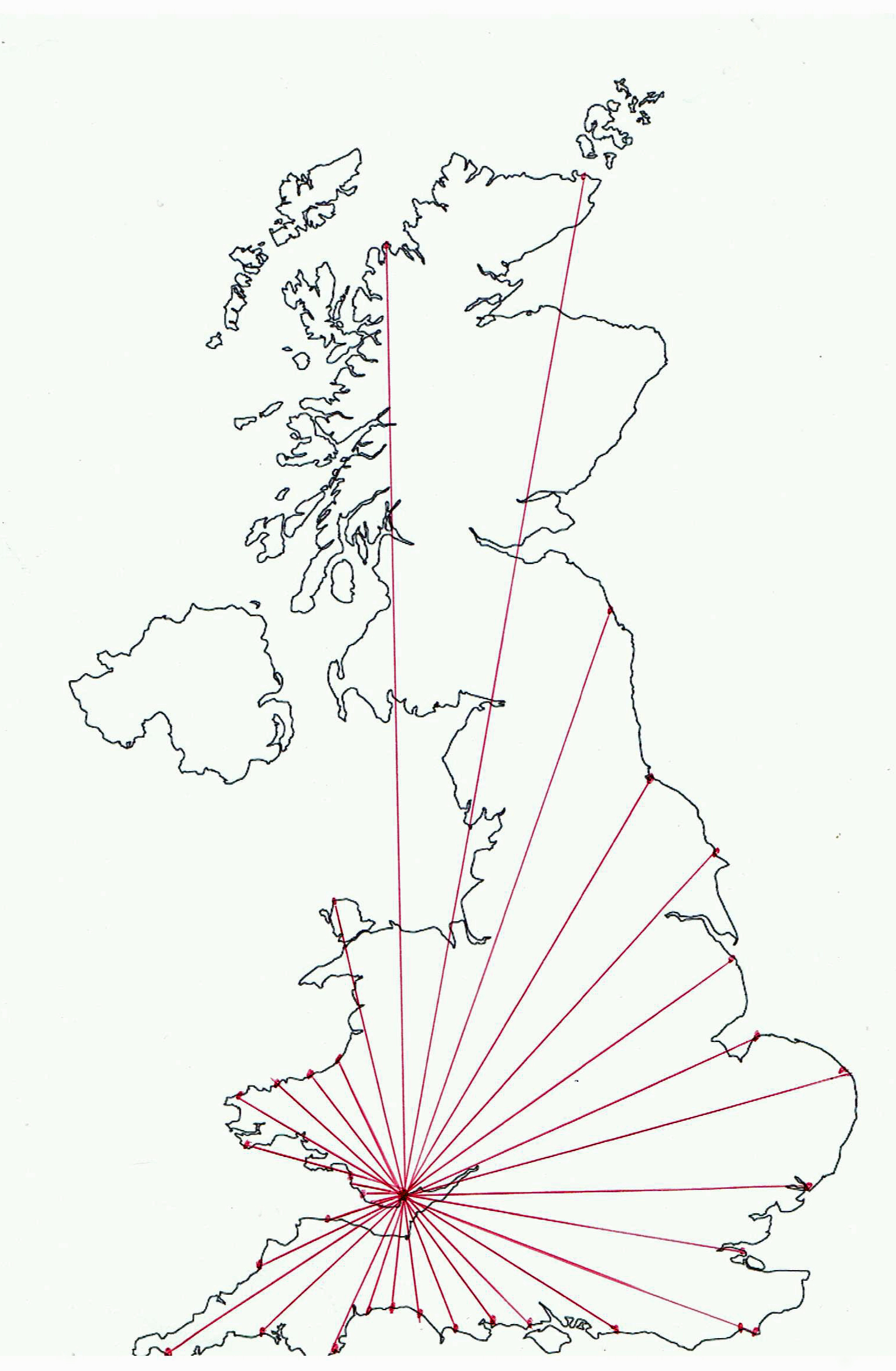 COMPASS POINT: A DISTRACTION, AN ADVENTURE  OR A BOOK? Imagined before Covid came to visit, enacted between successive waves and developed slowly. The emergence of a fascinating prospect. In an idle moment I had put my compass on the bar of Cardiff Bay Yacht Club and worked out where 32 Points of the Compass (N, NE, E, etc) would end up if I extended the lines to the furthest-most coast of mainland Britain. After much head scratching and re-measuring I settled on eight in Wales, two in Scotland and twenty-two in England. Interesting but what then? I think I knew the answer to that more or less from the beginning- I would visit them all one by one to see what was there- have a poke around, maybe find someone to talk to and take a photo or two (or a few hundred).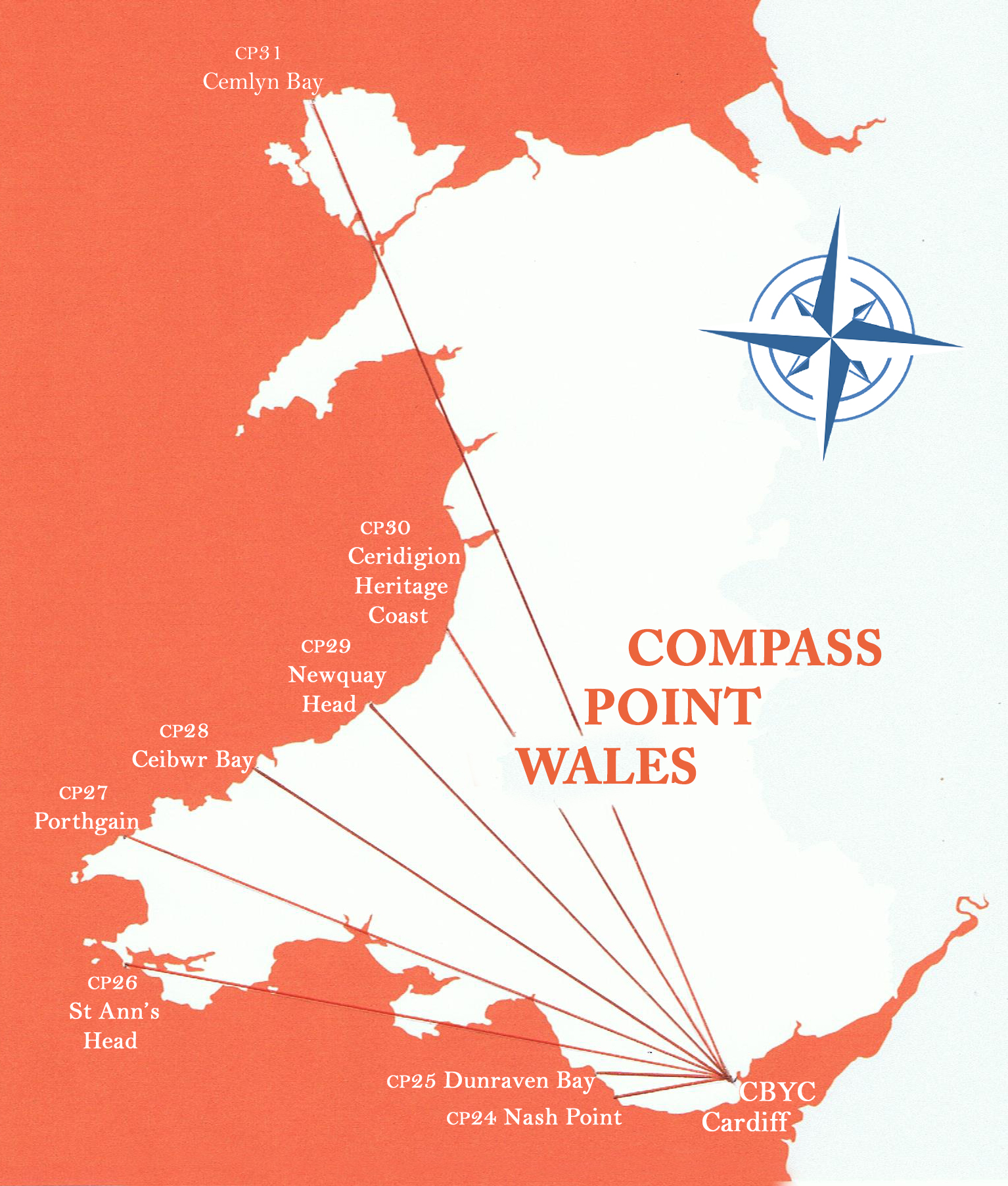 Setting out after the first lockdown, I pounced on the nearest ones to home, the eight on the coast of Wales. Some of the places I had been to before of course but a couple I hadn't and in any case I was viewing them through a completely new set of eyes. And everywhere I went there were signs- on factory walls, in hedgerows, in the windows of people's homes and on the backs of tractors- Thank you NHS! Hear hear!
There were many beaches- I clambered over rocks, climbed hills, sketched, chatted with a cow and met Mr. & Mrs. John Doe. Back home I looked at photos, drew maps and began to write it all down. When the second lockdown was announced I had no excuse.
(If you are wondering why there is no line to the right of Anglesey on the map it is because the next line continues until it hits the north-west tip of Scotland.)
PHASE TWO: THE SOUTH COAST OF ENGLAND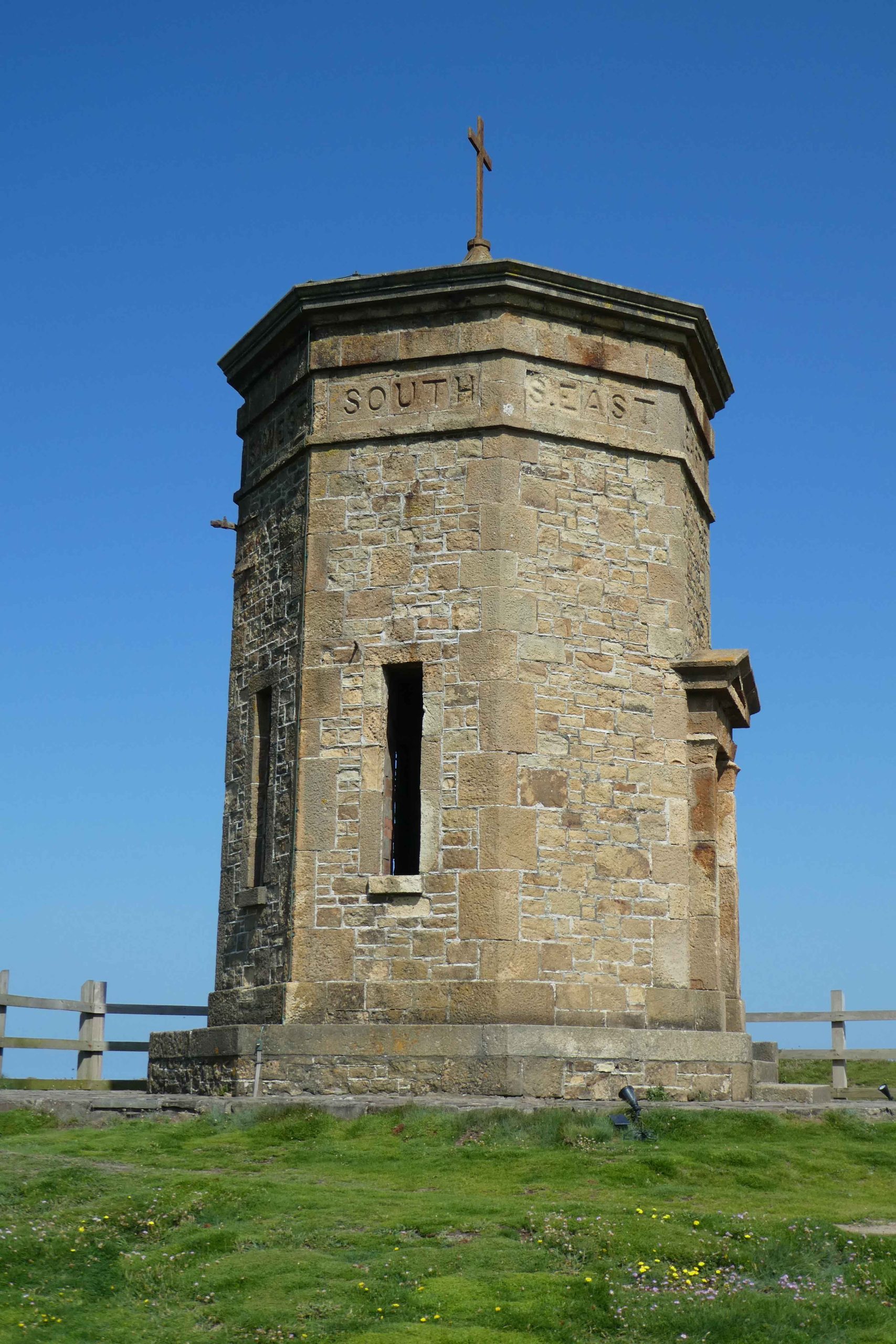 From Kent to Somerset, I set out along the south coast. There were more places I had not been to before, or at least different aspects of them. The Isle of Grain, a curious name for a curious place and one I will return to. And more, from migrants to a donkey sanctuary and being caught on the beach dressed as nature intended. There were another fourteen Points to visit along this coast and a stretch of fine weather helped the traverse. Not just the places- the people too- locals and visitors, publicans and dog walkers and a digger's hat left on a tree. Eight members of the Parachute Regiment laid on a smokey display just for me (and five thousand other people) at Lyme Regis. At Bude on the North Devon Coast, I was intrigued to find an octagonal  brick-built Compass Point standing on the headland. It has eight points of the compass carved on its panels. It said to be slightly offset by two degrees. Ah but the locals will nod their head sagely and tell you that it was deliberately set that way. Oh yes, of course….
PHASE THREE: SCOTLAND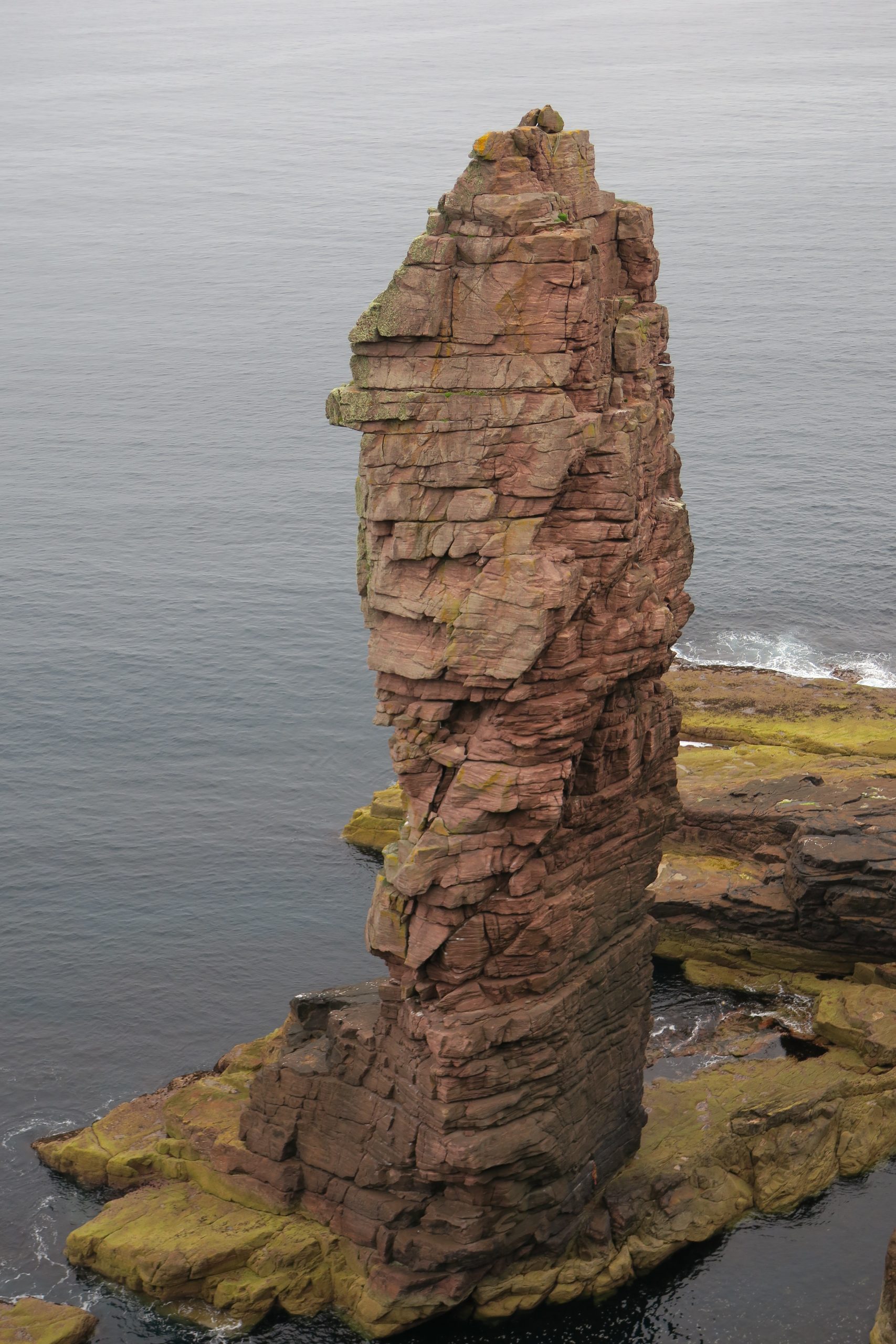 There are just two Compass Points in Scotland, one in each corner and both are on the end of a long journey. Point of Stoer is a remote, dramatic, fascinating peninsula. I roamed around its fractured coastline and explored its empty and spooky interior. I had been waiting to meet the Old Man of Stoer for a long time- and we had quite a chat even if it was a bit one-sided. But what is the meaning of time to this ancient rock pinnacle?
At the opposite corner of Ecosse, I couldn't resist slipping across to the Orkney Islands, also remote, splintered and timeless and tinged with a touch of sadness for me this time. Would that I could have stayed longer.
PART FOUR: THE NORTH EAST COAST OF ENGLAND
Just getting across to Holy Island in the dying of the sun was heart-warming. I was right at the water's edge, watching it slowly recede on a glorious evening; the sun slowly fading over my shoulder. I kept creeping forward as the water fell back. The tarmac road is slightly bevelled so that the water streams off sideways in rivulets- mesmerising to watch; talk about the parting of the waves. Everything was bathed in a tangerine glow as the sun sank towards the horizon; all this and the evocative call of the curlew that came rolling in from the mudflats and a flock of Brent Geese flying low over the causeway, not once but twice.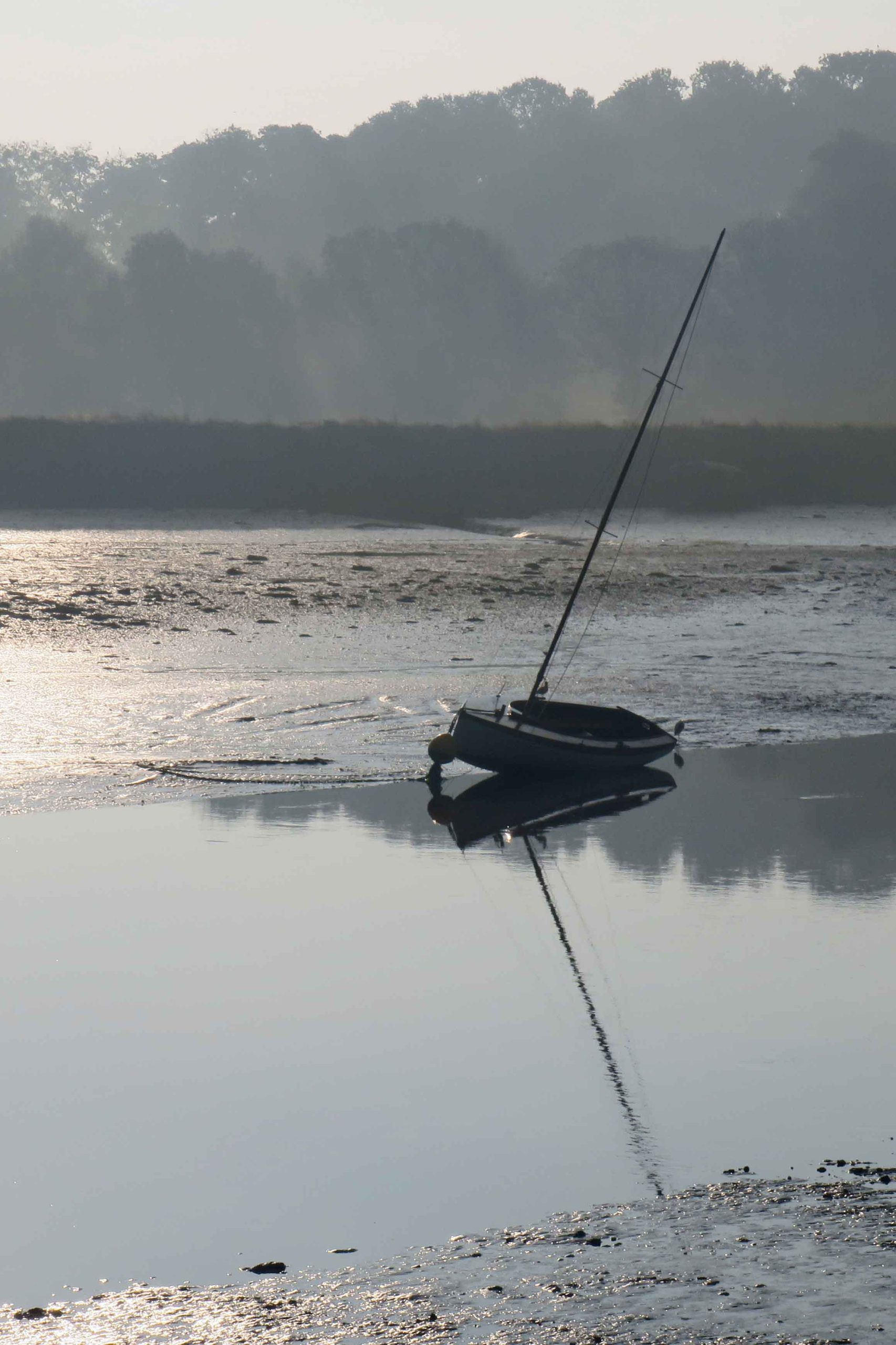 It was the beginning of a splendid dawdle down the East Coast of England. Bempton Cliffs and a meeting with an Antarctic champion flyer, and the sad story of a missing boy. Exploring the Deben River, a magical waterway that draws you in from golden treasure to a mysterious lawn mower. And on to the story of a small town builder who spent most of his life producing beautiful etchings of Roman pavements.
What a unique and fascinating island we live on, with a coastline of many stories of many lives. It is my task now to try to capture an essence of it in thirty-two chapters.