We had agreed to meet friends for dinner in Budapest- we thought we might fly but better still why don't we drive? The accommodation problem was answered when I found a neat little two-berth caravan. A calm crossing and onto the motorway at Calais to cross Belgium, heading for Trier in Germany. Suddenly, we lost engine power and the foot brake was only about 10% effective. We limped off the motorway into the small village of Soumagne, it was 8pm on a Saturday evening. Luckily, with much gesticulation from three ancient Belgians, we found our way to a garage and the most helpful mechanic in all of Belgium. An hour later we were on hour way, driving into the night to park in a roadside rest area.  We arrived at Trier in time for breakfast.
On the banks of the Mouselle River, Trier is the oldest town in Germany; first occupied by the Romans in the 2nd Century and has no less than three World Heritage Sites. Besides, it is a town I was keen to visit for a different reason. My father's brother, Reginald Head, was the victim of a gas attack in the trenches during the Great War; he was taken to a field hospital in Trier. When his father, my grandad, Harry Head, heard about it he set off to visit his eldest son in hospital. It was strictly against regulations to travel to the war zone but somehow or other he managed it. Reg was repatriated with his family but died seven years after the end of the war.
Days later, we happened upon a rural campsite some way south of Vienna; and there we met Leo who owns the site. In his younger days he had been an engineer on merchant ships and been into Newport, Cardiff and Bristol many times. His was a sad story from more than 40 years ago, he had met a girl in the seaman's mission and formed a relationship. They met every time he came into port. One day though he sailed away and did not return. She wrote to tell him she was pregnant, but he never saw her again. Now, 45 years later, he has been trying to find Julie Saunders but without success. I said I would look for her when I got home- an all but impossible task. I did follow a trail but it inevitably petered out.
With poor timing we arrived in Budapest in the rush hour, crossing the Danube to the camp site six miles the other side of town. Excellent buses and a metro train got us into town to meet up with Kiwi friends, Jonny and Linda Pascoe and John and Mary Stevens. The six of us had spent time travelling together in Australia two years ago and here we were, together again in Budapest. We had a splendid evening meal in a pavement bistro café where the wine flowed and candles glowed. In the morning, we met at the Gellert Baths which are the most wondrous thing- Romanesque, elegant, genteel and multi-faceted including an outdoor pool. Afterwards, we enjoyed a coffee before the New Zealanders joined their river cruise boat for a ten-day voyage to Amsterdam. At over 300 feet long, the boat looks wonderful, but I am content with a wandering caravan and a slightly erratic car. We were tourists over the next two hot, humid and windless days.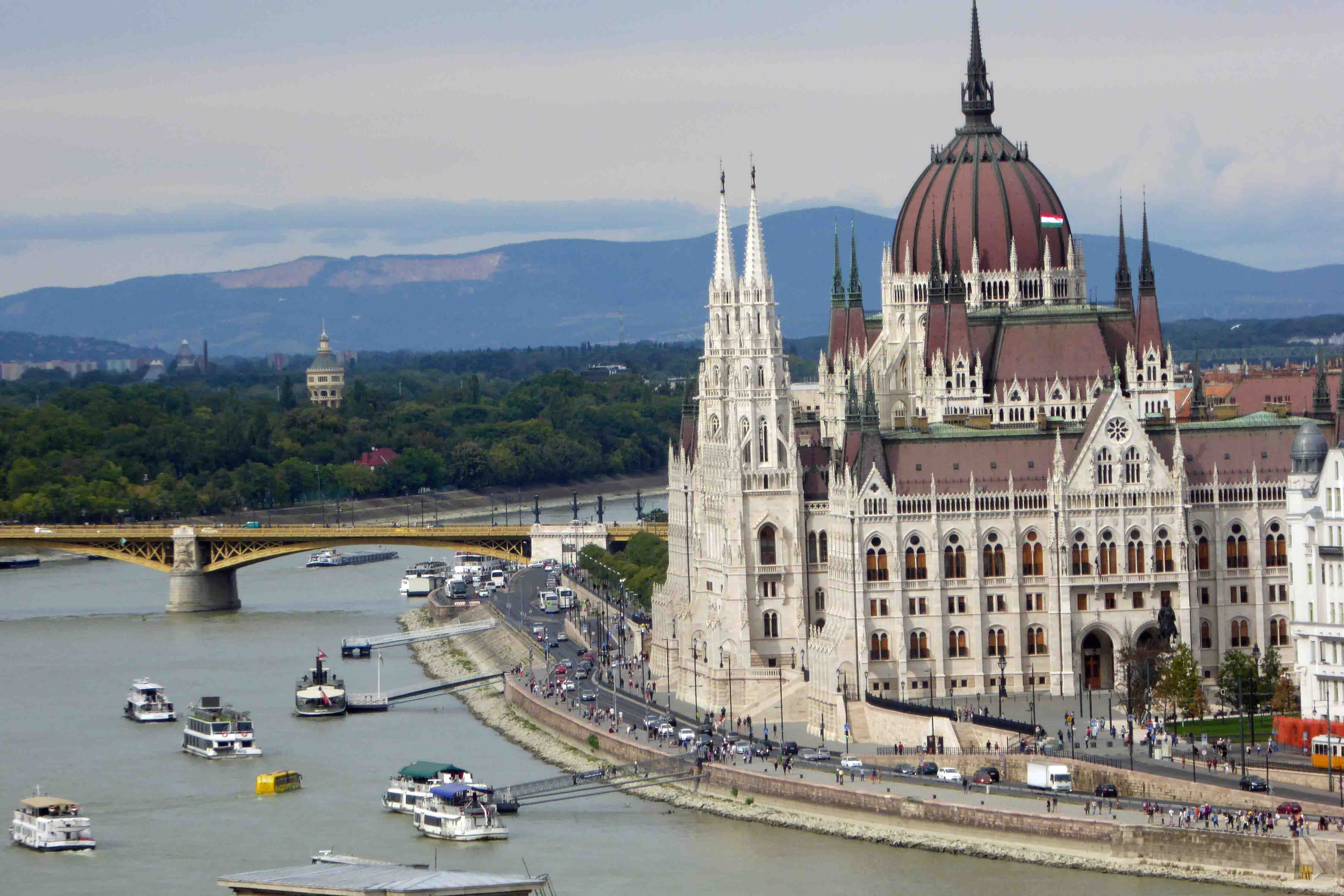 Parliament Building on the Danube
Budapest is a beautiful, majestic and historic city, more appealing than Paris and sits astride one of Europe's greatest waterways; the Danube rises in the Black Forest and empties into the Black Sea more than 1500 miles downstream. I enjoyed our brief time here, especially meeting old friends. Will I come back? Probably not.
We rolled on to cross into Croatia and after more than 300 miles, arrived at Plitvicke Lakes National Park, high in the hills and far from the sea. Camp Borje is a large, open campground and we settled in for three nights.  Plitvicke is an area of multiple lakes in close proximity, at different levels of altitude, connected by water races and waterfalls and inhabited by hundreds and thousands of fish. The water is crystal clear and an enticing green aqua. It is a spectacular, inspiring wilderness, except for the people, of which there are thousands. Some parts were fairly thinly populated but the boardwalks to the best sights were thronged by gawkers and sightseers, endlessly stopping to take photos. People eh? Still, a delightful place where we spent the whole day.
When we set out to leave camp, all was not right with the caravan. We pulled into a car park, the offside wheel was binding badly and Ivena from camp reception arranged for a mechanic. He quickly diagnosed a shattered wheel bearing. Milano had just two words of English, problem and kaput and in this case, both applied. What an excellent fellow he turned out to be. He took the hub away, sourced a new bearing in Zagreb and had it despatched the 100 miles to his village on the late bus. On a short evening walk we passed an open field with a small flock of sheep and a shepherd sitting on a log gently ringing a handbell. It was a scene of biblical peace and serenity. We raised an arm in greeting and the good shepherd waved back.
So, there we were, sitting in a car park with one wheel on our wagon on a rainy Thursday morning. True to his word though, Milano arrived at 9.15, re-assembling everything in twenty minutes. Once again, we have come out of a crisis smiling. Rolling again, over the mountains to the sea, we arrived at the small town of Senj and a camp site right on the beach. Passing through the countryside we noticed many farm houses and rural buildings with obvious lines of bullet holes from automatic weapons reminding us of the violence of this place not so long ago.
We wandered around Senj harbour and some of the narrow streets and squares of the old town- a few impressive old buildings are in a state of crumbling decay. On the highest hill overlooking the town, we walked around the outside of a 15th Century fortress, or rather lurched around it, the wind was super storm force making it difficult to stand or walk in a straight line. It was a wild night in camp! Gusts strong enough to rock the caravan- very heavy rain, incredible sheet lightening and prolonged thunder rampaging across the night. We lounged about the next day waiting for improving weather. The following morning the sea was flat calm and no wind or rain. I was in the kayak early for a paddle along the rocky shore. A shoal of fish in clear aqua green water that disappears underneath rocky shelves and a family of shags on a rocky point. So quiet, so peaceful, so out of sight and hearing of all of humanity.
We intended visiting Pula and one of the best preserved Roman amphitheatres in the world. But the forecast was dire so we just kept going, crossing the border into Slovenia and on into Italy and so to Lake Garda. Malcesine is a delightful town, full of interesting alleyways and shops selling all sorts of goods, mostly tourist related. Dominating all is Castillo Scaligero an imposing fortress on a rocky outcrop, half staring down at the town and half imposing its will over the lake. Iain and Joan McBride are old gaffers, whom we know through sailing. They had mentioned being at Malcesine for most of September; well we might drop in we said, and so we did. On a balmy night, as daylight drifted away, the four of us sat at an open-air restaurant beside the inner harbour and enjoyed a lovely meal, sharing lots of stories and a decent bottle of wine.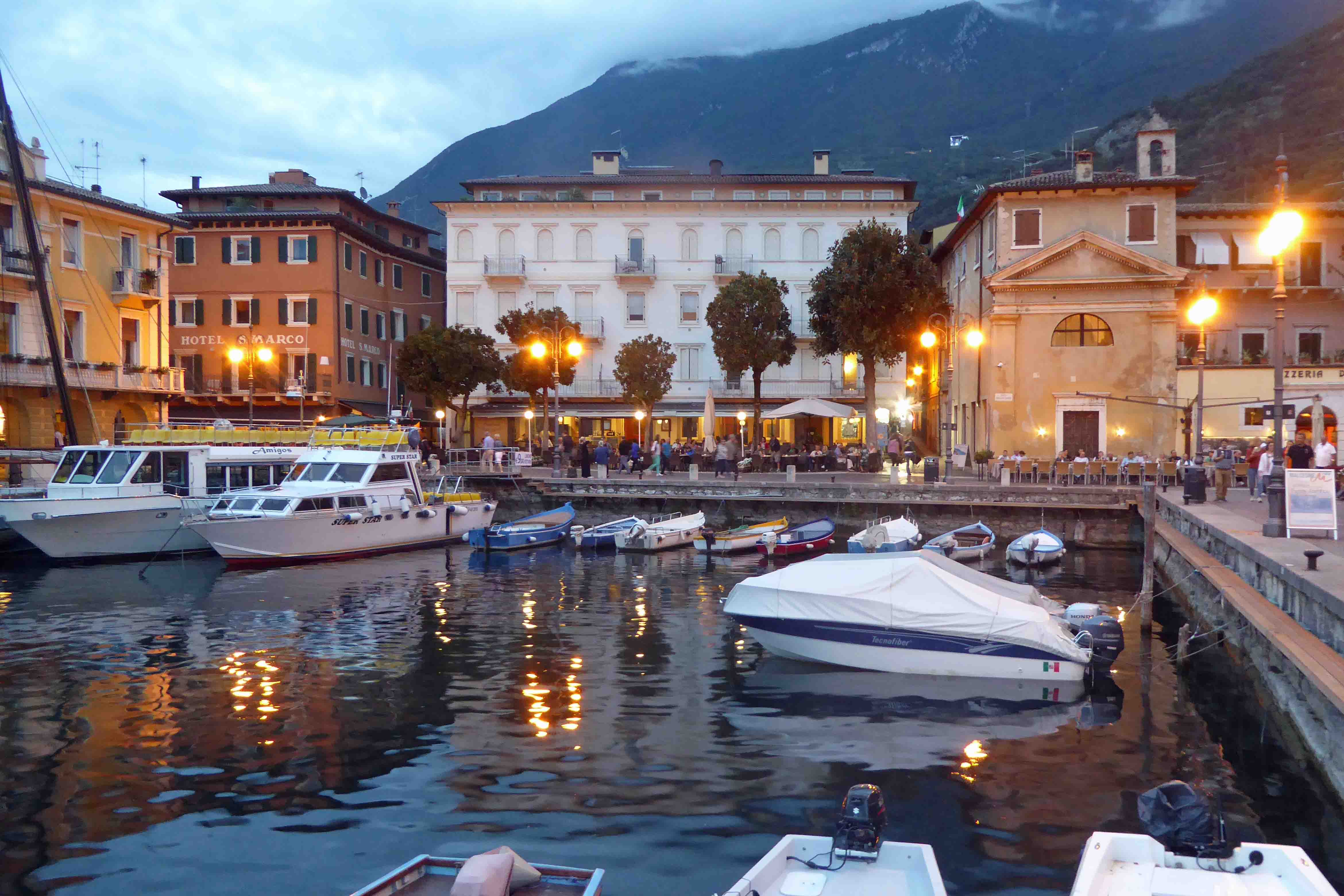 A balmy night on Lake Garda
Moody Tuesday followed; the sky over the lake was as dark as a three day bruise; the deluge wasn't long in coming. One lightning strike seemed to arc into a field just in front and to the right of the road. Visibility was very poor, making driving hazardous. On the Italian autostradas we began paying serious money in toll fees. Switzerland has a much better idea. €40 buys an annual Vignette which covers all of the autoroutes and two of the long tunnels through the Alps. It is about the only thing in the Swiss economy that appears to be good value for money.
The St Goddhart Tunnel has a reputation for long queues. It opened in 1980 as a single tunnel with one carriageway in either direction. Ever since a crash in 2001 causing a fire that killed forty people, traffic volume has been monitored. Trucks in particular are filtered to allow only so many per hour. We however, had no such delay, moving slowly for a few minutes but soon on our way through the ten-mile long tunnel.
We camped beside the lake about 2 miles east of Lucerne and took the Goldene Rundeahrt round trip to the summit of Mount Pilates. An hour's passage by steamer up the lake to Alpnachstad, then a ride on the 1889 cogwheel train, with a gradient of 48%, it is the steepest railway in the world. At the top, at almost 7,000 feet, we were met by a blanket of white cloud and a raging icy wind. Visibility was barely a hundred feet but shortly cleared to leave a gloriously panorama of stunning vistas. Continuing strong winds prevented use of the cable car descent, so it was a return by the cogwheel train.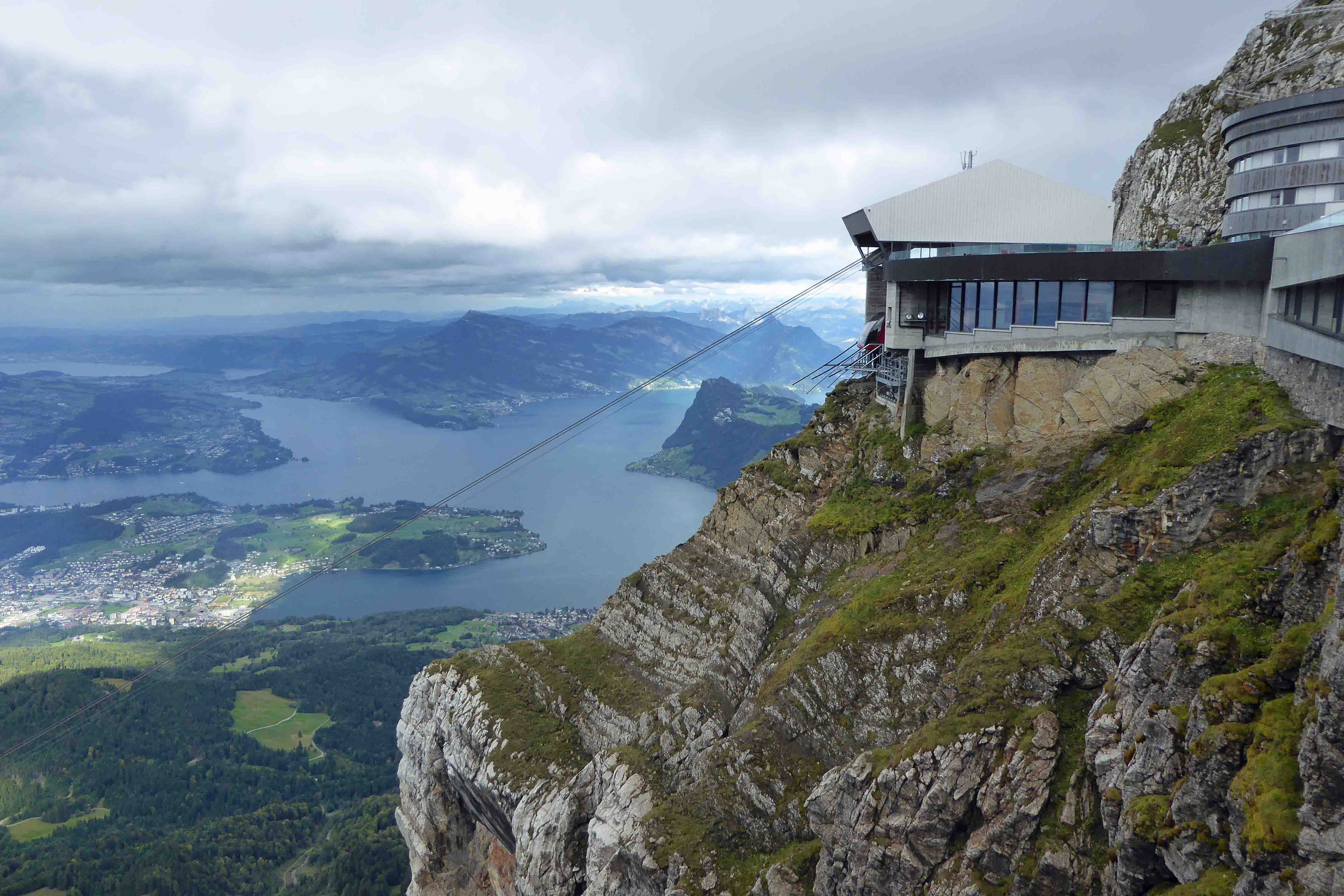 Mount Pilates cable car
Crossing into France we met up with Bev, an old friend of Betty's, and her husband  Phillipe. Since returning from Chad where they were missionaries for many years, they have lived in a home full of character on the edge of farmland. Bev took us into Belfort in her rattly old Peugeot, almost as ancient as the town itself. It is an old city with a great deal of history; stunningly impressive fortress ramparts sit high upon an upthrust of rock dominating the town. Today, it's most famous resident is the Lion of Belfort, a monumental beast carved in stone by Frederic Bartholdi, who created the Statue of Liberty later presented to the United States. It was our last call before the long drive back to Calais and the ferry to home.