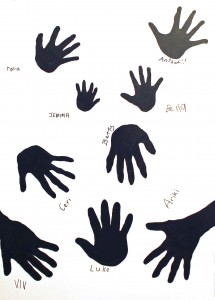 Two and a half years after the first Christchurch earthquake in September 2010, there has finally been some progress. With time running out on the red-zoned condemned land, a new house was purchased at auction. A packed room, full of expectancy, uncertainty, back stage negotiations, then SOLD! to a round of applause.
Ten days later there was more drama when a 'big cheese' from the insurance company flew in from HQ following our  intent to commence legal proceedings to recover adequate re-building costs for the earthquake damaged house. Hastily arranged meeting with 'BC' and our lawyers- more negotiation, then suddenly the deed was done. Nobody's expectations were fully met but everyone walked away reasonably satisfied – and happy it was all over at last.
Betty's son Ariki, daughter Ceri, and four granddaughters Anikah (8), Talia (6). Bella (4) and Jemima (1) came for a last visit to Grangi's house on the edge of the sea; the children gleefully painted and crayoned on the lounge walls. We all left our handprints too- evidence of the life of a family.
Two days later we locked the door of a much loved house- now empty, sad, broken, desolate, abandoned. The next visitor will arrive in a bulldozer.