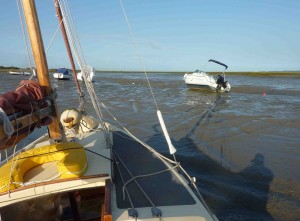 The 19ft Shrimper Nutmeg, some times known as Gumnut, spent a few days exploring the Eastern Solent after the Old Gaffers Association festival weekend at Cowes. Up the Medina River to Newport on the Isle of Wight, across to Southampton Water and the River Itchen, then hugging the mainland coast to Portsmouth.
Coming out of Portsmouth single-handed against a spring flood tide provided a moment or two of high interest. I could tell it was going to be a challenge when we began to slow well before the narrows. I increased the revs of the 8hp outboard bit by bit until there was no more to give. The GPS unwaveringly read zero speed. There is I discovered, nothing quite like standing dead in the water with the engine howling at maximum revs against a flood tide in a narrow channel. I was wary of larger boats inching passed me on the starboard side, close to an imposing stone wall. Then over my other shoulder appeared a towering car ferry, overtaking not twelve feet away on the port side. Pushed along by its wash in the sea's turmoil, we crept agonisingly slowly towards the mouth. Just as I could see that, brick by stone brick, we were making a tiny bit of progress, a forty-foot yacht appeared from around the fort on the corner. Entering the tidal stream she was tossed around in an on-coming rush of tide over wash. We were bows on and a collision looked ominous; I turned to starboard as much as I dared to offer my port side. She answered with a turn to port (!), changing the odds of a collision to almost a dead cert. At the last second her helmswoman seemed to grasp the collision regulations and she turned away to miss us by two coats of anti-fouling. A collision in that situation and at that velocity would be unthinkable.
But safely out in the Solent it turned into a great day to be on the water. Up went full sail and with the tide under us and a SE breeze, Nutmeg raced the 19nm to Keyhaven on one tack in an exhilarating four hours. We just beat the ebbing tide to get back on her swinging mooring to spend a glorious evening sitting on the mud, conjuring up a meal from left-over tins.