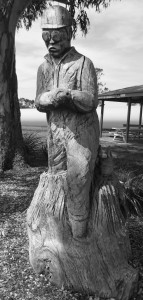 In the car park of the small South Australia town of Millicent there is an evocative tree trunk carving of a firefighter standing beside a kangaroo. The plaque beside it gives the explanation-
To commemorate the volunteers who gave willingly of their time and service on a day of devastation ASH WEDNESDAY 16th February 1983 "The day when a fiery inferno enveloped hundreds of houses and farms, thousands of sheep and cattle, pine plantations, even family and friends" Project by Millicent Community Builders
In a few words it is a compelling description of a day etched into the history of Australia and I was intrigued enough to want to find out more. The opportunity arose sooner than I expected.
An hour later, at nearby Mount Gambia, at the behest of my brother Malcolm, we called on John and Cheryl Kestle for a cup of coffee; we stayed for two and a half days, they are that sort of people. Packed into an incident-filled life is the story of John's part in Ash Wednesday of 1983. John worked in forestry for most of his life and became a senior volunteer fireman. On that particular Wednesday, he was at his office in the small milling town or Tarpeena when he heard about the fire. John had been called to many bush fires over the years and he was keeping a wary eye on this one. A strong wind was blowing, gusting to 55 mph, and it seemed at first as though it would pass to the north of Tarpeena. But then, with a sudden 90 degree wind shift, the fire began bearing down on the town. John organised for the residents, around 350 people, to gather on the cricket oval and he placed fire trucks around the perimeter to provide a curtain of water when the fire passed through. With a young volunteer fireman driving, he set out for the oval to see the arrangements for himself. He describes the smoke as being so thick it was impossible to see through and worse than the blackest of nights. Negotiating a hill, the young driver went off the road into a gully but they were able to regain the road without too much difficulty. They passed between a motorcycle and a car that were both on fire but did not find anyone with them. At the oval, the people waited and prayed. The fire trucks around the edge were fitted with a small insulated compartment, just large enough for the crew to squeeze into for a short period while a wind-driven fire flashed over. In a sustained fire, it would not protect the crew for long. In the event, the strategy to save the people worked, with all town's people surviving safely though many homes were destroyed.
Elsewhere, it was a different story, seventy-five people lost their lives including seventeen volunteer or full-time fire fighters, and 800 people were injured. More than 16,000 fire fighters were involved in fighting the blaze which also killed 350,000 farm animals. It was a day that will be forever known as Ash Wednesday.